𝐑𝐞𝐠𝐢𝐨𝐧 𝐛𝐨𝐨𝐬𝐭𝐬 𝐝𝐢𝐠𝐢𝐭𝐢𝐳𝐚𝐭𝐢𝐨𝐧 𝐢𝐧 𝐠𝐫𝐞𝐞𝐧𝐡𝐨𝐮𝐬𝐞𝐬 𝐰𝐢𝐭𝐡 𝐑𝐨𝐛𝐨𝐂𝐫𝐨𝐩𝐬 𝐕𝐥𝐢𝐞𝐠𝐞𝐧𝐝𝐞 𝐒𝐭𝐚𝐫𝐭 𝐚𝐧𝐝 𝟓𝐆 𝐅𝐢𝐞𝐥𝐝𝐥𝐚𝐛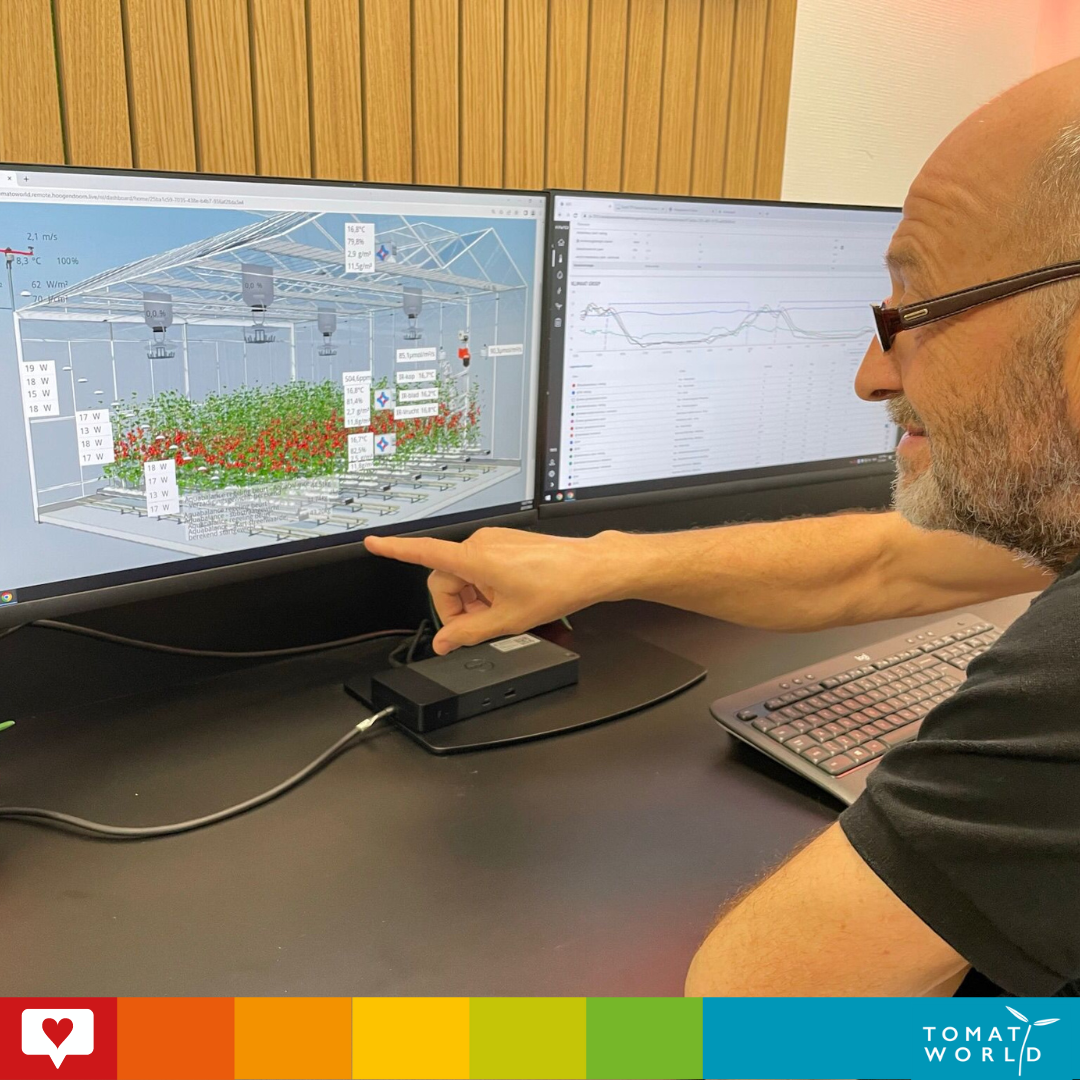 Exciting news! Tomatoworld will take the next step in data-driven growing! In the past two years Tomatoworld has been already the place where growers and other visitors can look at the various techniques for growing tomatoes in our fieldlab Data Driven Growing & Robotics. In the RoboCrops Vliegende start project, we are going to take our fieldlab to a new level of Data Driven Growing. We are doing this in cooperation with partners FME, InnovationQuarter, and World Horti Center. With this we want to stimulate the use of new technologies and bring cultivation companies and tech companies together to innovate successfully together. Also Provincie Zuid-Holland recognized the importance of this development and made contribution for this purpose. In collaboration with tech companies partners and experts in the horticultural sector, we are working to accelerate digital innovation in the greenhouse sector. This is not only important for solving issues around sustainability and labor shortages, but also for attracting (deep) tech companies to our region.
5𝑮 𝑭𝒊𝒆𝒍𝒅𝒍𝒂𝒃 🌱🌐
But that's not all! Tomatoworld is also becoming a 5G fieldlab thanks to the Do IoT (Delft on Internet of Things) project for greenhouse horticulture. Together with project partners Do IoT Fieldlab, TNO, MKB BV, Robovalley Foundation and Tomatoworld, 5G test and experimentation facilities are being built in RoboHouse and Tomatoworld. This offers companies the opportunity to develop, test and demonstrate innovative systems that would not be possible without high-quality mobile data connections, such as 5G. This makes Tomatoworld even more interesting for our partners!
It is important for more entrepreneurs in Greenport West-Holland to innovate in order to remain successful in the greenhouse horticulture sector and attractive as a business location for tech companies. These projects in which Tomatoworld is involved contribute to the innovative strength of the horticultural cluster and the business climate for (deep) tech companies. 🌱🍅💻
Thanks to the Metropoolregio Rotterdam Den Haag, Provincie Zuid-Holland en Gemeente Westland for the financial support to these projects.